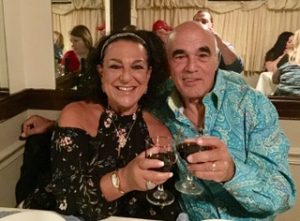 Hi, thanks for visiting The Traveling Locavores! We would love for you to get to know us better. We are Sandy and Steve Axelrod and after almost 50 years of wedded bliss and stressful careers we are living our dream.
Sandy: I love everything creative! I'm a chef, jewelry artist, food and travel writer and photographer. My first cookbook Affairs to Remember, which is a memoir with recipes for easy entertaining, was published in September 2015. I was born in Philadelphia, Pennsylvania and graduated from Germantown High School. I attended University of Pennsylvania where I got my certification to be a medical technologist. But since there was nothing very creative about that field I went back to college and attended Temple University to major in Art History. Then I met Steve and it was love at first sight. We got married in 1969, had our son Brian in 1973 and in 1982 we moved to South Florida where we have lived, worked and played ever since.
Shortly after Steve and I got married I decided I wanted to learn the proper techniques needed to create exquisite dishes for entertaining so I attended Le Cordon Bleu School of Cookery in London. I never intended to be a working chef but have had a passion for cooking since I was a child. My mom was right when she warned me never to say never! When our son was in high school we opened our upscale, off premise catering business Affairs to Remember Catering, which we ran as a family for 18 years until Hurricane Wilma forced us into early retirement in 2006.
That same year our son married his amazing wife Eve, I began selling my jewelry at art shows and we bought our first RV. Shortly after Brian and Eve's wedding Steve and I took off on a 7 month journey to 23 states working art shows on the weekends and visiting tourist attractions and fabulous restaurants during the week. We didn't really want it to end but we weren't quite ready to sell our home and travel full time. Fast forward to now and that's all we can think about. We can't wait to share our adventure with you as we taste America one bite at a time!!!
Steve: My wife and I are kindred spirits but my talents are totally different from hers. I was also born in Philadelphia and graduated from Germantown High School a few years earlier than Sandy. I attended Philadelphia Institute of Textiles and Science because I wanted to be an architect; but I was drafted so I enlisted in the Navy and became an Air Controlman. I truly would have loved to become a pilot but that would have guaranteed me a trip to Viet Nam and I preferred to stay safe and stateside. Prior to joining the Navy and until Sandy and I got married I worked in the catering business. I probably worked every position except actually cooking. I can't cook. Period. But I sure do eat well!
Once we got married I worked in sales. I have been told that I can sell ice to an eskimo. Even in our catering business I was in charge of sales and wait staff. But after too many years of selling I realized that I was burnt out. I have always done all of our home repairs and since I do enjoy working with my hands I switched careers and became a handyman. That was after we returned from our RV adventure. I have learned how to apply my handyman knowledge to RV maintenance and can't wait to share that knowledge with you once we are on our way. Our goal is to be on the road and living like locals wherever we park our RV by our 50th Anniversary next Spring.
Together we are The Traveling Locavores – living, cooking and eating like locals as we RV all over the country!