This was originally published on Food and Fond Memories on December 23, 2009 by sandyaxelrod 1 Comment (Edit)
I have been so busy with the holidays and getting ready for our trip to New Orleans that I almost forgot to tell you about our wonderful Chanukah dinner.  About a week prior to Chanukah my wonderful daughter-in-law Eve (who is not Jewish) asked if I would mind making a traditional Chanukah dinner so that she could be at our home when we lit the first candle in our menorah.  Needless to say I was thrilled that she asked!  For me the menu planning was simple.  We started with Martinis, Hummus, cheeses and crackers.  After we said the Chanukah blessing and lit the first candle we sat down to a meal of Sweet and Sour Brisket with Gravy and Carrot Tzimmes, Roasted Asparagus, Potato Latkes with Sour Cream and Applesauce and Challah.  For dessert, honestly, I took the easy route and had Steve stop at Dunkin' Donuts and pick up jelly donuts which are traditional since they are fried.  Part of the reason we celebrate Chanukah is that the Maccabees had only enough oil to burn for one night but by some miracle it lasted eight nights.  Hence eight days of Chanukah and eight candles lit.  I don't have time now for my brisket recipe but since Eve and my son Brian keep telling me how much they loved my potato latkes I though I would take the time to share the recipe with you.  They are easy and can be made in advance and frozen which is just what I did.
Print
Potato Latkes (Pancakes)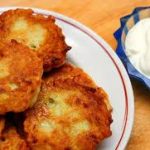 Author:
Prep Time:

5 minutes

Cook Time:

20 minutes

Total Time:

25 minutes

Yield:

8-10 servings

Category:

Sides

Method:

Pan Frying

Cuisine:

Jewish
Ingredients
10 medium russet potatoes, peeled and kept in cold water to prevent discoloring
2 medium/large onions
2-3 large eggs
1/4 cup flour (for Passover use matzah meal)
season well with salt and white pepper
vegetable oil for frying
Sour Cream and Applesauce for serving
Instructions
Starting with the onions, alternately grate some of the onions on the large holes of the grater and some of the potatoes on the small holes.  Grate carefully or your skin will be seasoning the latkes!  Press out as much liquid as possible and reserve the starchy residue at the bottom of the bowl.  Return the sediment to the mixture.*  Blend the potatoes with the eggs, flour, salt and white pepper.  Heat 1″ of oil in a large frying pan.  Drop about 1 tablespoon of mixture for each latke into the skillet and fry, turning once.  When golden and crisp on each side, drain on paper towels.  Serve immediately with sour cream and or applesauce.  Serves 8-10.
Notes
If you want to make the latkes ahead, place them on a sheet pan, freeze, and then remove to a plastic bag.  When ready to serve take out as many as you need place on sheet pan and bake in a preheated 450F oven for about 10-15 minutes.
*The steel blade of a food processor or the grating blade are less painfull ways of grating the potatoes and onions.  The blade makes a smooth consistency and the grater a crunchy one.
Keywords: This One's for You, Eve, potato latkes, side dishes, potatoes, frying