Originally published on Food and Fond Memories on June 1, 2011 by sandyaxelrod 0 Comments (Edit)
As I told you yesterday our son Brian and his wonderful wife Eve came to our home for dinner Saturday night. I never have to put on airs for family, not that I really do for friends either. But an evening with our kids is always so relaxed. It is more about spending quality time together than the food. Of course as with all foodies the food is most definitely a main event. I had decided to prepare a grilled pork tenderloin because I know it's one of Brian's favorites. With the pork I wanted to serve an apple compote and for Eve my Eggplant Salad. Naturally I went directly to Bobby Flay for inspiration. In his very first cookbook "Bold American Food" which was first published in 1994 I found a recipe for Chipotle Pork Tenderloin with Green Apple Juice Sauce that couldn't have been simpler to make or pack more of a punch. All you have to do for the pork is rub the tenderloins with chipotle puree and let them sit covered in the fridge for a couple of hours until it's time to grill them. With this done I had plenty of time to make the rest of the meal. The sauce is a reduction of defrosted apple juice concentrate, chicken stock, brown sugar, jalapeno and onions cooked in a little butter which I made in my 1 quart All-Clad saucier. While the sauce was reducing I made the apple compote in my 12″ covered All-Clad saute pan and in my brand new 10″ All-Clad frying pan I sauteed fresh green beans with olive oil and garlic. Steve walked in to the kitchen with everything on the stove at once and declared it to be an all All-Clad dinner! When all is said and done this really is the best cookware I have ever used. Everything cooks so evenly and with less heat than with any of my other pans. I so look forward to adding more All-Clad pieces to my collection. As Brian and Eve were leaving they paid the supreme compliment. Eve said she would rather come to our home for dinner than go to any restaurant. Brian added that restaurant meals are a gamble but dinner that his mom cooked is guaranteed to be delicious. Aw aren't they the best kids ever?
Print
Apple Compote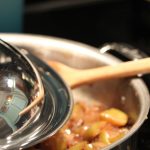 Author:
Prep Time:

5 minutes

Cook Time:

30-35 minutes

Total Time:

-25889130.7 minute

Yield:

4 servings

Category:

Sides

Method:

Simmering

Cuisine:

American
Ingredients
3 Tablespoons unsalted butter
1/4 cup dark brown sugar
1 tablespoon ground cinnamon
1/4 teaspoon kosher salt
4 Granny Smith Apples, cored and chunked
juice of one lemon
1/2 cup dried currants
2 tablespoons apple cider vinegar
Instructions
Melt the butter and brown sugar in a large saute pan over medium heat. Add the cinnamon and salt. Toss the apples with the lemon juice and add to pan with currants. Stir together, cover and cook over medium heat until the apples soften, about 30 minutes. For smoother applesauce texture cook longer. Mix in the cider vinegar and cook 2-3 minutes longer. Serve warm as an accompaniment to Chipotle Pork Tenderloin with Green Apple Juice Sauce.
Keywords: Apple Compote, Granny Smith apples, apple sauce, side dishes