We interrupt this program, er posts about our trip to New Orleans, for a story about our fabulous dinner at Bostons on the Beach in Delray Beach Florida!
A couple of Saturday's ago, Steve and I were hosted by Bostons on the Beach in Delray Beach Florida so that we could tell you about their great new menu. The evening was perfect for dining al Fresca so we were quite happy to be seated looking out to the palm tree lined sidewalk across the street and the beach and ocean just beyond that. Right off the bat we were given menus to peruse and informed that the reason for all of the yellow lights was to protect the sea turtles. This is nesting season and sea turtles lay their eggs in the sand along our gorgeous coastal beaches. Hatchlings are confused by bright white lights and sometimes try to cross busy A1A instead of heading to the ocean where they belong. Many restaurants, Bostons on the Beach included, help prevent this by using yellow lights that do not attract the hatchlings. The only downside to this is that my photos all have a very yellow tint that I have corrected as best I could. So bear in mind that it is much more important to protect the sea turtles than to have perfect photos!
We started off with a cocktail. The Wicked Mary, which is more like an hors d'oeuvre and a drink all at the same time. It's served in a lovely, all, curvy glass that is rimmed with Old Bay Seasoning. The glass is filled to the brim with Tito's handmade vodka, premium imported freshly squeezed San Marzano tomatoes, pure squeezed celery and lemon juice, balsamic vinegar, fresh-grated horseradish, and grey Celtic sea salt. Then it is topped with a skewer holding a cube of pepper jack cheese, a cube of salami, and a "filthy" red piri piri pepper-stuffed olive. In addition there is a long celery stalk for a stirrer and a colossal shrimp added as the crowning glory. It was one of the best Mary's we have ever had.
For our appetizers we first shared the luscious New England Clam Chowder which was creamy, loaded with lots of clams and potatoes, and very flavorful. And then had the Mussels in roasted shallot, white wine-chili broth with fresh tomatoes at our servers suggestion. I can assure you we were not disappointed. The presentation was adorable. There was a small stock pot with an inverted shallow pot on top as the lid sitting on a newspaper lined platter along with grilled bread. Our server then lifted the shallow pot lid to reveal the glorious mussels and broth. And voila. The lid becomes your discarded shell receptacle. The mussels were plump, tender, extremely clean and tasted of that savory broth. It is also a good thing we had that grilled bread because we certainly did not want to miss one drop of that aromatic broth.
Honestly we were quite satiety after our appetizers but our entrées were on their way. Bostons is certainly not restrained with the size of their portions. Steve and I could easily have shared a main course but we ordered two. I had the Key West Platter which had perfectly fried large crunchy shrimp, crispy fish fingers, conch fritters, key lime tartar sauce, cocktail sauce, seasoned fries, and island mango slaw. Steve's heaping platter of Fried Shrimp had the same perfectly fried large crunchy, onion rings, seasoned fries, cocktail sauce and island mango slaw. We really appreciated that at $21.95 for each of our entrées was quite reasonable! Neither of us could come close to finishing our platters so we brought home enough for another meal.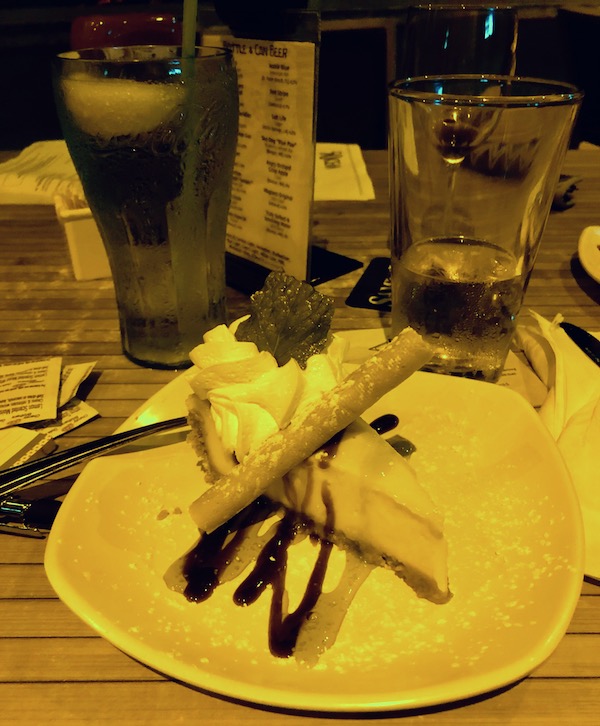 Gluttons that we are, we still managed to enjoy a couple of yummy desserts that we shared. We had a slice of the Key Lime Pie which had the traditional graham cracker crust, creamy and tart Key lime filling and light as air whipped cream topping with a drizzle of fresh fruit coulis. And of course we needed some chocolate so we also had the Chocolate Brownie Overload which consisted of a warm double chocolate brownie spiked with walnuts, vanilla ice cream, and caramel drizzle. Funny thing was that although we could not finish dinner we managed to eat every single morsel of our desserts.
We certainly look forward to enjoying the ambiance and delicious food at Bostons on the Beach in Delray Beach Florida again in the very near future.
Disclaimer: Although we were hosted by Bostons on the Beach the opinions stated are 100% my own.