Originally published as Colorful Carrots Carefully Cooked  on Food and Fond Memories on July 8, 2011 by sandyaxelrod Leave a Comment (Edit)
Tuesday, while shopping for the Art Society party that I mentioned in Wednesday's post, I noticed bags of organic baby carrots that I just couldn't resist. What made them so irresistible you ask? The colors. Of course your expect to see orange carrots but each bag of carrots contained white carrots, yellow carrots, and carrots so dark red that they were almost purple along with the more common orange ones. Knowing that our good friend Maria was coming to dinner the next night so that she could help me set up a fan page for Food and Fond Memories I grabbed two bags of the colorful gems and built the rest of my dinner menu around the carrots. Maria has gone through some life changing events in the past few years and the stress has taken its toll on her health. In order to get back on the right track she has started eating very healthy food so I did not want to serve anything that would upset her system. I decided I would prepare my Garam Masala dusted salmon over a bed of Mango Tomatillo Salsa joined by the rainbow of Candied Ginger Carrots. I know I have written about all of these items before but this batch of carrots came out so delicious and gorgeous that I just couldn't help myself; I had to share the recipe once more along with the pictures. The cooking liquid for the carrots was reduced down to form a syrupy glaze and made the tender baby carrots sweet and spicy at the same time. The plate was so colorful with the pink salmon, the golden mango and light green tomatillo with specks of deep emerald from the cilantro in the salsa and the jewel tones of the glazed carrots with its burgundy colored sauce. Maria who is as much of a foodie as I am was quite impressed with the beauty of the presentation as well as the taste of the food. And although not a cilantro lover (lots of chopped cilantro in the salsa) she cleaned her plate!
Print
Candied Ginger Carrots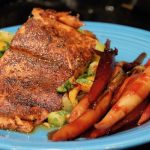 Author:
Prep Time:

1 minute

Cook Time:

18-20 minutes

Total Time:

-25889116.183333 minute

Yield:

3-4 servings

Category:

Sides

Method:

Sautéing

Cuisine:

American
Ingredients
1 cup dry white wine
1/4 cup dark brown sugar
1 tablespoon honey
1 tablespoon ground ginger
1 pound multicolored baby carrots with tops trimmed
Kosher salt and freshly ground black pepper 
Instructions
In a medium to large sauté pan combine the white wine, brown sugar, and ginger. Add the carrots and season with salt and pepper. Stir to combine and bring to a simmer over medium heat. When the sugar has melted and the liquid is bubbling cover and reduce heat to medium low. Cook covered for about 10 minutes until the carrots are just tender. Remove lid and raise heat to medium allowing liquid to boil. Reduce the liquid until it becomes syrupy, 3-5 minutes. Serve carrots immediately drizzled with the reduced sauce.
Keywords: Candied Ginger Carrots, baby carrots, side dishes, glazed carrots, ginger