Holy Name of Jesus Cathedral in Raleigh NC is so awe inspiring that it just called to us to enter. The church building is enormous and can be seen from very far away making an impressive statement.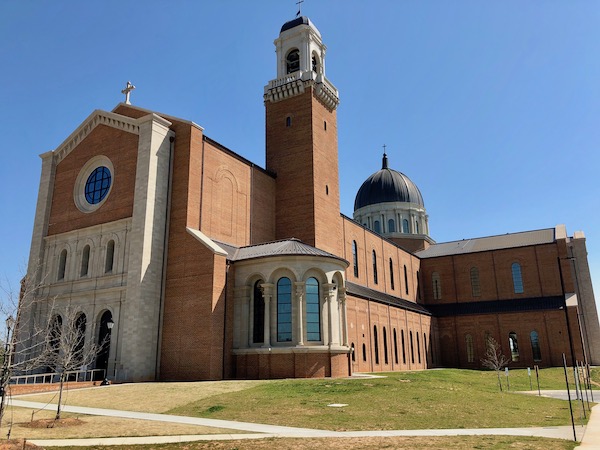 Our daughter-in-law had told us about this new church a few months prior to our visit because she was so impressed. Her niece had her First Communion there and Eve couldn't stop raving about how gorgeous this new church was. So Steve and I just had to see for ourselves.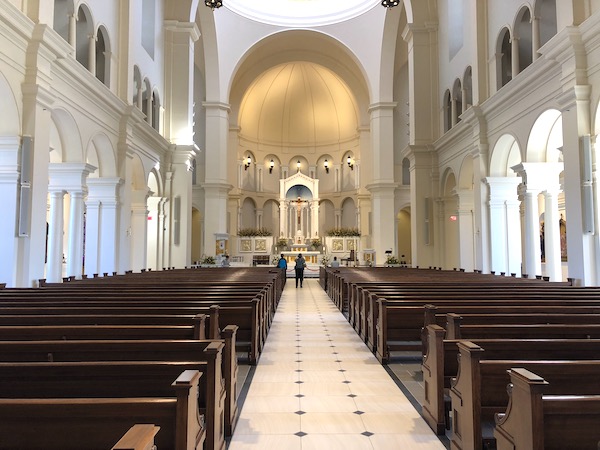 Throughout our travels we have visited numerous religious institutions of all denominations and I have to say that there's only one other one that instilled such a feeling of awe and that one is in Rome. Although this one is certainly newer than the Vatican it made my jaw drop each time I looked in a different direction!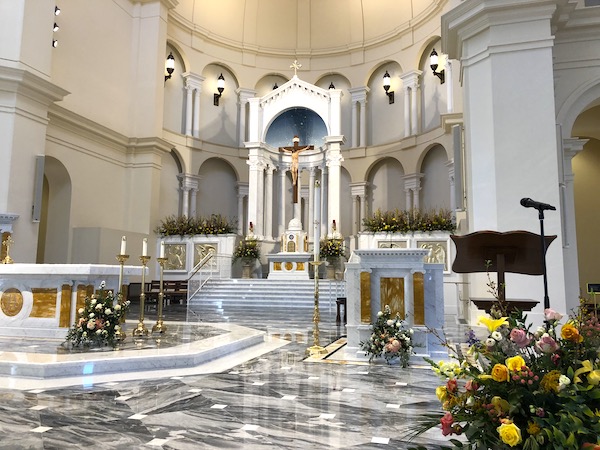 So let me take you on a tour. As you can see in the first photo there is a bell tower. There are 50 bells that have 4 octaves making this a concert carillon. Five of these bells are inscribed with the names and mottos of the 5 bishops of the Diocese of Raleigh who were installed prior to the dedication of Holy Name of Jesus Cathedral in July 2017. Five other bells are inscribed with Scripture passages. And one older bell belonged to Holy Name of Jesus Chapel which at one time stood on the same property. These bells are tuned with a precision machine until the not is true. Only 4 bells are on hinges and swing. Those bells have traditional clappers that swing back and forth with the movement of the bells. These 4 bells are connected to a wireless remote control which allows a celebrant to push a button and ring bells as Mass ends.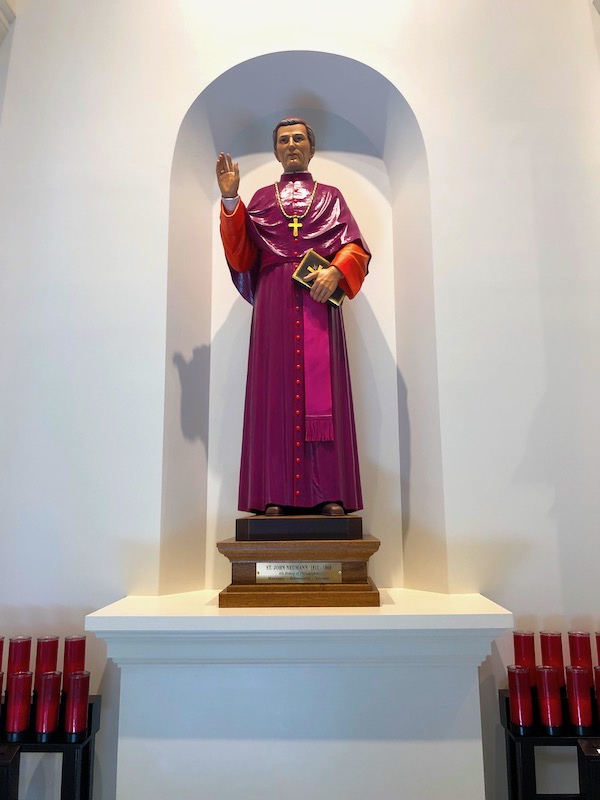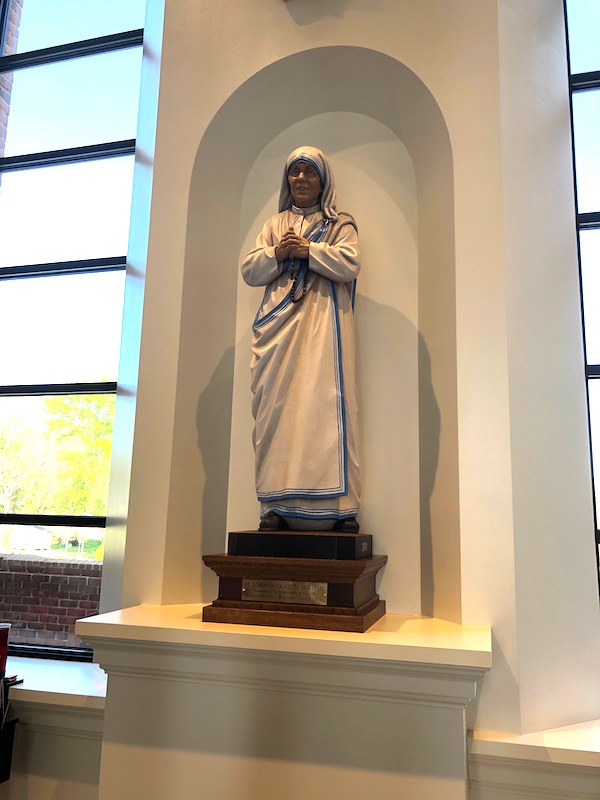 The cathedral houses 27 statues which were newly created by the Ferdinand Stuflesser studio in Ortisei, Italy. The statues begin at the loggia and travel along the outer left aisle in the nave, toward the north transept, then across to the south transept and along the outer aisle of the nave ending in the narthex at the All Saints Chapel. The hand carved and painted statues are almost life size. The statues of the Blessed Mother and Saint Joseph are slightly larger than the others to indicate their importance to Catholic life. Some statues were selected to represent the cultural diversity within the Diocese of Raleigh.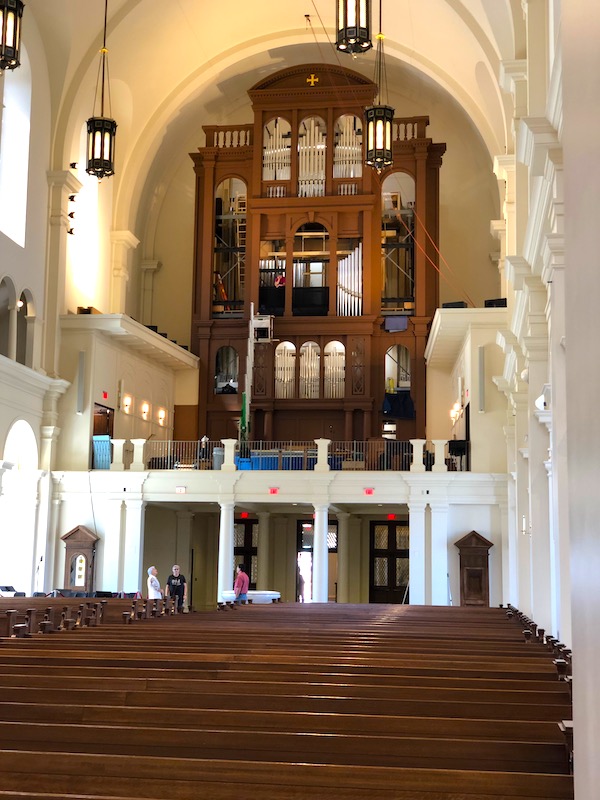 The massive Pipe Organ was installed in January 2018. In 2014 the Diocese of Raleigh selected C. B. Fisk, Inc. to build an organ for the new church. It was decided that a three-manual, 61 stop instrument would be made. Pipes range in length from 32 feet to 3/4 of an inch. In all the organ contains a mind blowing 3,737 pipes.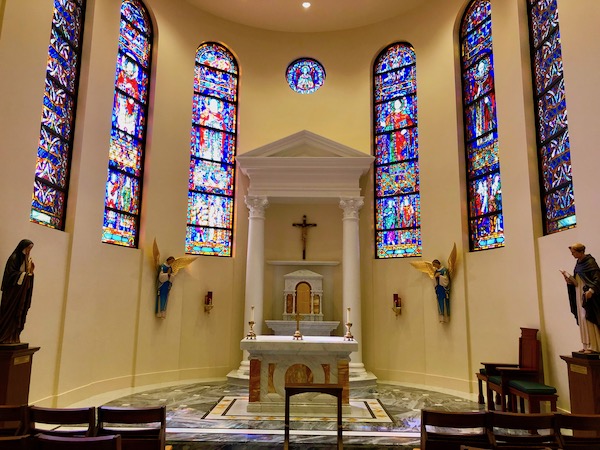 There are 95 stained glass windows!!! Forty-five of these windows adorned churches in my home town Philadelphia for nearly a century. These windows, made of hand blown glass held together by lead, date back to the 1920s. The Diocese of Raleigh salvaged many of the windows from the Ascension of Our Lord Church and brought them to their new home in Raleigh. Though these restored windows were unique there were not nearly enough of them to complete this new more than 2,000 seat cathedral. Because of this 50 new windows were created by Beyer Studio. The new windows are not as richly colored, or dark, as the old ones but they have the same properties and the same quality of handmade glass.
I think you can understand why this Cathedral is so impressive that Steve and I highly recommend you take the time to visit it if you are in Raleigh.