Originally published on Food and Fond Memories on August 9, 2011 by sandyaxelrod 4 Comments (Edit)
When I transferred all of my old posts to this new blog I remembered how delicious these Red Chile Short Rib Tacos were and had to share this with you again. And for those of you new to my blog you are in for a treat! I adapted the recipe from a recipe of my fave chef Bobby Flay that had been in Food Network Magazine way back in 2011. The short ribs were so tender and literally the meat fell off the bones. Enjoy. I know you will.
A great taco is not just about taste but texture as well. To quote my BF (that's Bobby Flay of course) "It's got to have crunch!" And these tacos, which were the beef option in my trio of tacos, were a perfect example. The melt in your mouth short ribs filled crisp tortilla shells along with queso sauce, pickled red onions and green chile relish creating contrasts of both flavor and texture in every bite. I was certainly glad that I had decided to make the short ribs way in advance of the party because they were an all day project. Especially making such a large quantity for a party of 22 guests. Since all of my shopping for our party was completed a week before the event I started my cooking on Sunday. I had chosen the short ribs to make first because I knew they would take the longest of any of the other recipes. There is just no way around it, short ribs need to cook for hours to make them tender and succulent. Even though I have a very large 7 quart Dutch oven I was searing off about seven pounds of short ribs so I needed to do them in batches making sure not to crowd the pan because I wanted to get a really nice crust on the outside. If the meat was too close together it would steam instead of browning. So after heating my oven to 350F I patted all that beautiful meat nice and dry and seasoned it all over with a generous amount of Kosher salt and freshly ground black pepper. I heated some canola oil in my Dutch oven and seared off all of those bad boys. Once that was done I literally had a mountain of meat on a plate anxiously waiting to be returned to the pot and placed in the oven for a long two and a half hour nap. In the meantime I simmered and steeped my stock with assorted chiles. I also prepared my braising liquid for the short ribs which was redolent with garlic, onion, red wine, port, thyme, and the chile-stock mixture. Then ever so methodically I returned the short ribs to the pot making sure that I could fit every last one in and not make the pot overflow. Whew. It was close. I put the lid on the pot and then hoisted it off the stove and into the preheated oven. It's just a good thing that I work out with heavy weights on a regular basis because that pot must have weighed about 25 pounds with everything in it. Shredding the meat after it cooled was no easy feat either. Actually the hardest part was not eating it all up while I was shredding. It was so amazingly delicious it was almost impossible to keep from nibbling. I must say that whenever I prepare a recipe of Bobby's for the first time I am always impressed with his culinary genius. He truly is a brilliant chef. His recipes are spot on and most definitely palate pleasing.
Print
Red Chile Short Rib Tacos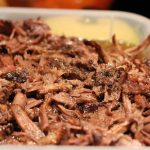 Author:
Prep Time:

10 minutes

Cook Time:

3 hours

Total Time:

3 hours 10 minutes

Yield:

6

-

8

servings

1

x
Category:

Meat

Method:

Braising

Cuisine:

Southwestern
Scale
Ingredients
For the Short Ribs:
3 pounds bone-in beef short ribs
 (look for the ones that are long strips with several bones)
1/4 cup canola oil
3 cups chicken stock
2 dried ancho chile peppers, stemmed and seeded
2 dried New Mexico chile peppers, stemmed and seeded
4 cascabel chile peppers, stemmed and seeded
1 large Spanish onion, chopped
6 cloves garlic, smashed
1 cup dry red wine
1/2 cup port
12 sprigs thyme
16 hard corn taco shells
Cilantro, queso sauce, pickled red onions, and green chile relish for topping (Recipes in Notes!)
Instructions
1.  Preheat the oven to 350F. Pat the short ribs dry and season generously with salt and pepper on both sides. Heat the canola oil in a large Dutch oven over medium-high heat. Working in batches, brown the short ribs on both sides, about 8 minutes total each batch. Remove to a plate.
2.  Meanwhile, combine the stock and dried chiles in a medium saucepan and bring to a simmer. Remove from the heat and let steep, 15 minutes.
3.  Discard all but 3 tablespoons oil from the Dutch oven. Add the onion and cook, stirring, until soft, about 5 minutes; add the garlic and cook 1 minute. Pour in the red wine and port and simmer, stirring, until almost completely reduced, about 12 minutes. Add the thyme and the chile-stock mixture; bring to a simmer and return the short ribs to the pot. Cover, transfer to the oven and cook until the meat is tender, about 2 hours and 30 minutes.
4.  Remove the short ribs to a bowl; shred the meat from the bone. Strain the cooking liquid into a degreasing cup and pour off the excess fat. Pour the remaining liquid into a skillet and bring to a boil. Reduce to a simmer and cook, stirring occasionally, until thickened, 10 to 15 minutes; season with salt and pepper. Add the meat and toss to coat. Fill the taco shells with the meat; top with cilantro, queso sauce, pickled onions and chile relish.
Notes
Queso Sauce
Melt 1 tablespoon butter in a saucepan over medium-high heat. Whisk in 1 tablespoon flour; cook 1 minute. Slowly whisk in 1 1/4 cups warmed whole milk; cook, whisking, until thickened, about 5 minutes. Remove from heat and stir in 3 cups grated monterey jack and 1/4 cup grated parmesan; season with salt and pepper. Serve warm.
Pickled Red Onion
Bring 3/4 cup lime juice, 1/4 cup each red wine vinegar and sugar, and 1 tablespoon salt to a boil in a saucepan. Remove from the heat and let cool, 5 minutes. Toss with 1 thinly sliced red onion in a bowl; cover and chill at least 4 hours, stirring occasionally.
Green Chile Relish
Broil or grill 2 poblano chile peppers until charred on all sides; transfer to a bowl, cover and set aside, 10 minutes. Peel, seed and dice. Combine with 4 diced jarred piquillo peppers, 1 tablespoon honey, 2 tablespoons canola oil, the juice of 1 lime, 1/4 cup chopped cilantro, and salt and pepper in a bowl; let sit at least 15 minutes before serving.
Keywords: Red Chile Short Rib Tacos, bone in short ribs, cooking with chiles, tacos, braising, entrées