Originally published on Food and Fond Memories on September 20, 2017 by sandy axelrod 0 Comments (Edit)
For those of us of the Jewish faith we will be celebrating the new year beginning this evening, September 20 at sundown. To all of you who celebrate I wish you a sweet and healthy New Year filled with love and joy!
The year has been filled with joy, frustration, devastation and hope. As I do every year at this time I reflect on all that I am grateful for. First and foremost, I'm so thankful that I have made it through another year with my family being healthy!!! Without our health it is difficult to accomplish much. This has been a very productive year for me and I look forward to the next one being even better.
Hurricane Irma really threw us for a loop. For the first time in 35 years of living in Florida Steve and I evacuated and didn't know what we would find on our return. We actually cut our visit with our son and daughter in law short by a day to drive all the way back from Raleigh because of Irma's forecast to make landfall on the east coast. We picked up our puppy, brought in anything that might become airborne and closed up the house. I didn't even have time to unpack so it made it easy to get ready for our drive back to the comfort and shelter of our son's home. The drive, which normally takes about 11 hours, turned into 16 hours of driving through the night. We reached Brian and Eve's at 9am and even though it was bright and sunny we were so exhausted that we slept soundly until about 2 in the afternoon.
Being with our family made us so much less stressed! We had a such a fabulous time with our Brian and Eve and our furry grandpups – Zoe and Maximus. So wonderful that Eve pouted when we said we were going home. Truly, how blessed are we?
The ride home seemed like a breeze compared to the ride up. Traffic was light and the only thing remarkable was how many bucket trucks we saw on their way to help Florida get power restored. There was a convoy from Canada of at least twenty trucks, plus help from Delaware and Pennsylvania. It was not until we reached Ft. Pierce that I truly realized how amazing our country truly is. As we pulled in to get gas I noticed several First Responder trucks from Louisiana. There was an entire Emergency Response team fueling up from St. Bernard Parish, New Orleans. While Steve pumped gas I got to talk with some of the men who were waiting for a police escort to the Keys. They said "it's the least we can do when everyone did so much to help them after Katrina". A few days prior they had been in Texas assisting in search and rescue and being fed by New Orleans chef John Besh. Now they are in Florida paying it forward!
And speaking of food… I am baking two cakes as my contribution to our Rosh Hashana feast. If I don't bring Aunt Rita's Chocolate Cake I am not allowed in the door. And since not everyone loves chocolate, something I could never understand, I am also bringing a Lemon Buttermilk Cake with a Crisp Caramel Coating. Today I'm sharing the chocolate cake recipe which is in my cookbook Affairs to Remember. I promise to share the other one soon.
Print
Aunt Rita's Chocolate Cake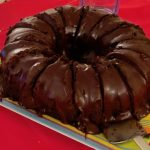 Aunt Rita wasn't even my real aunt but she was so special to me. She was my friend Jackie Garber's aunt for real, but Jackie was kind enough to share her with me because Aunt Rita actually grew up next door to my husband's father! Her chocolate cake is foolproof. Really. And it is so easy because it starts with a mix. It is the things she added in that made it so incredibly luscious. The cake is really delicious on its own but if you want to take it to the stratosphere drizzle some bittersweet chocolate ganache over it and oh my.
Author:
Prep Time:

10 minutes

Cook Time:

1 hour

Total Time:

1 hour 10 minutes

Yield:

12

-

16

servings

1

x
Category:

Sweets

Method:

Baking

Cuisine:

American
Scale
Ingredients
For the cake:
1 package Duncan Hines Devils Food Cake Mix
1 small box instant chocolate pudding
1 tablespoon instant espresso granules
1 cup whole milk
1/3 cup canola oil
8 ounces full fat sour cream
4 large eggs
12 ounces Ghirardelli Bittersweet Chocolate Chips
no stick cooking spray
For the ganache:
12 ounces Ghirardelli Bittersweet Chocolate Chips
1 tablespoon instant espresso granules
4 tablespoons unsalted butter, softened
1/8 teaspoon kosher salt
1 1/4 cups heavy cream, hot
Instructions
For the cake:
Preheat the oven to 350º F. Lightly spray a bundt pan with the cooking spray and dust with flour. Add the cake mix, pudding, milk, oil, sour cream and eggs to the bowl of a stand mixer fitted with the paddle and beat on low, gradually increasing the speed to medium, until all of the ingredients are thoroughly blended, about 2 minutes. Fold the chips in by hand with a rubber spatula. Transfer the batter to the prepared pan and smooth the top. Bake in the center of the oven for at least 1 hour or until a skewer inserted into the middle of the cake comes out clean. Remove from the oven and place on a cooling rack in the pan for 15 minutes. Then remove from the pan and cool completely. This cake stays moist for several days if it is not devoured before that but it also freezes quite well.
For the ganache:
Place the chocolate chips, espresso, butter and salt in a large heat proof bowl over a pot of simmering water. Stir occasionally until the chocolate is completely melted. Remove the bowl from the heat and pour in the hot cream. Allow to sit for a minute or two and then stir carefully in concentric circles from the center out until the cream is completely blended into the chocolate mixture. Allow to cool to lukewarm before drizzling over the cake. Save any extra ganache in the refrigerator for another use.
To finish transfer the cake to a serving plate and drizzle with the ganache if desired.
Keywords: Rosh Hashana - The Jewish New Year, Aunt Rita's Chocolate Cake, sweets, cake, dessert, German Shepherds