Originally published as My Inspiration on Food and Fond Memories on January 24, 2013 by sandyaxelrod Leave a Comment (Edit)
Anyone who knows me knows how much I admire and respect Bobby Flay. I imagine it's kind of funny but I watch his cooking shows while I am on the treadmill. In fact the DVR that is hooked up to the TV in our gym upstairs is solely dedicated to Bobby Flay. I usually plan what we are having for dinner by what he has inspired me to cook while I am doing my cardio. So it is not at all surprising that his web based series on FoodNetwork.com "Bobby Flay Fit"  last week made me really sit up and take notice. It was a seven part series of three minute episodes teaching, motivating and inspiring us to be the best that we can be. For me the timing was perfect. One of my most serious New Year's Resolutions was to do just that. Get fit, lose weight and eat healthy.
On top of that Steve and I have a couple of trips planned that of course revolve around food. In April we plan on going to New Orleans to celebrate my birthday. And from there we will join our wonderful son Brian and his amazing wife Eve in Destin, Florida to celebrate our Brian's 40th Birthday. (I still don't know how he could be turning 40 when I am only 35! LOL) It will certainly be a week filled with eating, drinking, boating, sun and fun! But that's not the really BIG motivation. That came in the form a trip we just planned to celebrate Steve's milestone birthday coming in October. G-d willing we are flying to Barcelona, Spain on October 19 and taking a 12 night Mediterranean cruise on the Celebrity Equinox! We will visit Nice, France; Florence, Rome, Naples, and Venice, Italy; Kotor, Montenegro and Dubrovnik, Croatia. And to top it off we will spend two nights in Barcelona before returning home.
So with healthy eating in mind I started planning my weekly menu on Sunday. It was definitely a loose menu plan as I didn't assign any particular day to a recipe. I need flexibility. But I am determined to stick to a healthy lifestyle. Monday night we had Red Lentil and Andouille Sausage Soup for dinner along with an arugula salad. Last night I prepared Slow Roasted Salmon which was so delicious. It was light in calories but jam packed with flavor.
The recipe I used, Slow Roasted Salmon with Tarragon and Citrus, was from  Floyd Cardoz in the Food and Wine Annual Cookbook 2012. Usually I grill or saute salmon but this preparation really intrigued me so I gave it a try and was more than pleased with the results. In fact it was so good and easy to prepare that I plan on serving it at my next dinner party.
Print
Slow Roasted Salmon with Tarragon and Citrus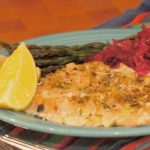 Author:
Prep Time:

5-6 minutes + 20 minutes marinating

Cook Time:

35 minutes

Total Time:

-25889104.233333 minute

Yield:

6 servings

Category:

Seafood

Method:

Roasting

Cuisine:

American
Ingredients
4 tablespoons unsalted butter, melted
4 large garlic cloves, very thinly sliced
3 medium shallots, minced
2 tablespoons fennel seeds, coarsely ground in a spice grinder
Finely grated zest of 3 lemons, plus 1 1/2 tablespoons fresh lemon juice
Finely grated zest and juice of 1 orange
2 tablespoons chopped fresh tarragon
1 tablespoon coarsely ground black pepper
2 tablespoons chopped fresh thyme
Extra-virgin olive oil, for the baking dish
2 1/2 pounds whole skinned salmon fillet
Kosher salt
1/2 teaspoon ground chile de arbol (or cayenne)
Flaky sea salt, for sprinkling
Instructions
1. In a bowl, combine the melted butter with the garlic, shallots, fennel seeds, zests, tarragon, black pepper and thyme.
2. Preheat oven to 300F. Brush a large glass or ceramic baking dish with olive oil. Lightly season the salmon fillet on both sides with kosher salt. Spread half of the seasoning mixture on the skinned side of the fish. Place the salmon skinned side down in the baking dish and fold under the thin tail end to make the fillet an even thickness. Stir the chile de arbol into the remaining seasoning mixture and spread over the salmon. Let stand at room temperature for about 20 minutes.
3. Carefully pour the fresh orange juice into the baking dish around the salmon being careful not to disturb the seasoning mixture. Cover the dish tightly with aluminum foil and bake covered for about 35 minutes. The salmon should be barely opaque in the center.
4. Sprinkle the salmon with the lemon juice and sea salt and serve.
Notes
Note: I served the salmon with slow roasted asparagus which I cooked on a baking sheet at the same time I cooked the salmon. I also made sweet and sour braised red cabbage to round out the plate. Everything worked well together and made for a very vibrant, colorful and yummy meal.
Keywords: Slow Roasted Salmon with Tarragon and Citrus, salmon, dinner, roasted salmon