Originally published as Delectable Stuffed Flank Steak on Food and Fond Memories on August 30, 2011 by sandyaxelrod 0 Comments (Edit)
Steve and I don't eat meat all that often so when we do it has to be special. Bobby Flay's Red Wine Marinated Flank Steak Filled with Prosciutto, Fontina and Basil with Cabernet-Shallot Reduction most definitely rates as a special. And the bonus was that it was easy to prepare. The only hard part was remembering that I had to marinate the meat at least 4 hours ahead of time or overnight. Which, in my case, turned out to be overnight because by the time I remembered to marinate it, it was way to close to dinner time so I went to Plan B for that night's dinner and we had the Stuffed Flank Steak the next evening.
My mind must go in a thousand directions at once because there are so many things I want to accomplish before we set out on our journey through the next phase of our lives. That's my excuse for forgetting to marinate the meat in time and I'm sticking to it! I guess part of my problem is that I am a bit of a control freak so I have to learn how to do everything. You've all heard the saying "if you want something done right, do it yourself". Well I'm a firm believer in that. It's not that I think I am the only person who can do the job; it's that I get a really great sense of accomplishment when I do it right.
It is really how we got into the catering business. I could not bring myself to hire a caterer because I was afraid their food wouldn't be as good as the food I prepare. Even when we had parties for 150 to 175 guests in our home I had to do all of the cooking myself. When we have dinner parties or cocktail parties and our guests ask what they can bring, my answer is never food. I'm sure their food would be delicious but response to their question is always to bring wine. I like to have all of the components of my menu compliment each other throughout the courses so unless I told my guests exactly what to make and give them the recipe I want them to use I wouldn't be happy. I also think it would be kind of rude to be that demanding. Besides I truly LOVE being in the kitchen preparing food for friends and family to enjoy!!
Print
Stuffed Flank Steak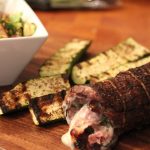 Author:
Prep Time:

10 minutes

Cook Time:

25-30 minutes

Total Time:

-25889124.816667 minute

Yield:

4-6 servings

Category:

Meat

Method:

Grilling

Cuisine:

Italian
Ingredients
4 shallots, coarsely chopped
1 cup dry red wine, such as Cabernet
1/4 cup olive oil
2 pounds flank steak, butterflied
Kosher salt and freshly ground black pepper
1/4 pound thinly sliced prosciutto
1/4 pound thinly sliced fontina cheese
14 fresh basil leaves
Olive oil
Cabernet-Shallot Reduction (Recipe in Notes)
Instructions
1.  Whisk together shallots, wine and olive oil in a large baking dish. Add the steak and turn to coat. Cover and refrigerate for at least 4 hours or overnight.
2.  Heat grill to high.
3.  Remove the steak from the marinade and blot with paper towels. Lay on a flat surface, cut side up, and season with salt and pepper. Cover the surface with the prosciutto slices, then top with the cheese and a layer of basil leaves. Starting with the side facing you, tightly roll up the steak around the filling. Using kitchen string, tie the roll in 4 or 5 places.
4.  Brush the outside of the steak with oil and season with salt and pepper. Grill the steak over high heat until browned all over, 8 to 10 minutes. Turn the steak 4 times as it cooks. Move meat away from the direct heat and grill for 15 to 20 minutes, or until an instant-read thermometer registers 125 degrees F for medium-rare. Remove from the grill and let rest 5 minutes before slicing. Slice against the grain into 1/2 inch thick slices and drizzle with the Cabernet-Shallot Reduction.
Notes
Cabernet-Shallot Reduction
2 teaspoons olive oil
3 shallots, finely chopped
1 bottle of Cabernet wine
1 teaspoon black peppercorns
Kosher salt
1 tablespoon honey
1.  Heat the oil in a large saucepan either on your stove or the grates of the grill over high heat. Add the shallots and cook until soft. 
2.  Add the wine and peppercorns, bring to a boil and cook until thickened and reduced to 1 cup.
Keywords: Stuffed Flank Steak, grilling, dinner, beef entrée, grilled stuffed flank steak, Bobby Flay recipes