Originally published on Food and Fond Memories on June 27, 2011 by sandyaxelrod Leave a Comment (Edit)
Steve surprised me and came home from work early on Friday. The first words out of his mouth after "honey I'm home" were "what's for dinner?" And as he uttered those words I realized I had not taken anything out of the freezer yet so I replied with "what would you enjoy tonight for your dining pleasure?" With that he suggested we try another of our sample steaks from the Chicago Steak Company so I pulled out the top sirloins. Since they were vacuum sealed I did a quick defrost in a bowl of cold water and then marinated them in a basil cilantro chimichurri for an hour or so before grilling. Chimichurri is so simple to make and adds so much flavor impact. All you do is place garlic, fresh basil and cilantro, red wine vinegar, salt, pepper and olive oil in a blender or food processor and whirl away for a few seconds until everything is chopped finely and well blended. I divided my chimichurri in half putting half of it in a zipper bag with the steaks and the other half I reserved in a small bowl to serve with the steaks as a sauce. I left the bowl with the chimichurri on the counter uncovered and the aroma of garlic and herbs wafted through the house making us hungry and anxious to actually eat our meal. While the steaks were chilling and bathing in their marinade Steve took his nightly walk to Publix to get the missing items to complete our meal. He picked up a package of thickly sliced portobello mushrooms, shallots and Yukon Gold potatoes. I brushed the mushroom slices and the peeled shallots with some canola oil and seasoned them well with Kosher salt and freshly ground black pepper and grilled them along with the steaks. Meanwhile I had boiled skin-on chunks of Yukon Gold potatoes in well salted water and when they were tender I drained them and returned them to the pot to dry for a minute or two over medium heat. Then I mashed them with unsalted butter until they were relatively smooth. I added a heaping tablespoon or two of plain Greek yogurt, prepared horseradish, salt and pepper and mixed the mashed potatoes really well. Since the steaks weren't finished grilling and needed resting for another ten minutes on top of that I transferred the potatoes to a glass bowl, covered them, and placed it over a pot of simmering water to keep them piping hot until we were ready to eat. While the steaks rested from their strenuous stint sizzling on the grill I gave the mushrooms and shallots a rough chop and drizzled them with aged balsamic vinegar and extra virgin olive oil. Everything looked and smelled so savory that we couldn't wait to sit down and dig in. But wait – first I have to take pictures for  the blog! And after that we did chow down. Everything was delicious  but the steaks were so good that we took teeny weeny bites to make it last longer. Now I do have to add that the top sirloin was certainly not as tender as the filet mignon but you wouldn't expect it to be. It had a nice tender chew and was delectably flavorful. I don't know whether I will make the boneless rib eyes or the New York strip steaks from Chicago Steak Company next. I will most likely save the rib eyes for last because they are my favorites but (pun intended) I will keep you posted.
Print
Basil Cilantro Chimichurri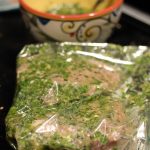 Author:
Prep Time:

5 minutes

Total Time:

5 minutes

Yield:

2 servings

Category:

Condiments

Method:

Food Processor

Cuisine:

South American
Ingredients
4 large cloves garlic
1/2 cup fresh basil leaves
1/4 cup fresh cilantro leaves
1/4 cup red wine vinegar
1/4 cup olive oil
Kosher salt and freshly ground black pepper
Instructions
Drop the garlic cloves through feed tube of a food processor or opening in the top of a blender with motor running. Stop, scrape down, add the herbs and red wine vinegar.
 Again with the motor running drizzle in the oil through the top and whir until the herbs are finely chopped. Season to taste with salt and pepper.
Keywords: Yummy Top Sirloin Steak with Basil Cilantro Chimichurri