Originally published on Food and Fond Memories on December 9, 2010 by sandyaxelrod 4 Comments (Edit)
Steve and I are not among those who scamper to airports this time of year. Last year we took a trip to New Orleans in our RV for the Holidays but it was so cold that we probably won't go back in the winter. Oh who am I kidding. We would go to New Orleans any chance we could no matter what the weather. For now though eating one of our favorite NOLA staples at home will have to do!
For a couple of months we were jonesing for a Muffuletto. I even had two loaves of bread from the Central Grocery in my freezer since our last trip there at the end of May. The problem was that a couple months back Steve was raiding the fridge and when he grabbed the bottom door rack to close the refrigerator he must have pulled up on it and dislodged it from the door. With a loud crash all of the bottles and jars on that shelf fell violently to the floor. This included a large jar three quarters of the way full of Central Grocery's famous olive salad – a requisite for a muffuletto!! Yes of course there was a huge mess. And yes I was glad Steve didn't get cut. Fortunately that was the only glass jar on the shelf, so it was the only thing that broke. But the olive salad that spewed all over our kitchen floor was lost forever which only made us want a muffaletta that much more!!!
And this brings me to our happy ending. Very good friends of ours, Joanne and Stuart, went to New Orleans for a short visit, their first. Knowing we are practically New Orleanians they came to us for a list of restaurants and jazz clubs to visit. As a thank you gift (and knowing about the olive salad disaster) they brought us back the much coveted condiment. You really would have thought they gave us an ingot of gold we were so excited. The very next day I made muffuletta for dinner.
Print
Lotta Muffuletta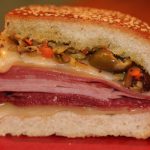 This is a traditional Italian New Orleans sandwich. It can be eaten cold, but I love putting it in the oven to get the cheese all melty and gooey.
Author:
Prep Time:

5 minutes

Cook Time:

5-7 minutes

Total Time:

-25889120.833333 minute

Yield:

2-4 servings

Category:

Sandwich

Method:

Baking

Cuisine:

Italian American
Ingredients
1/4 lb. Mortadella, sliced thin
1/4 lb. Genoa salami, sliced thin
1/4 lb. boiled ham, sliced thin
2 oz. Swiss cheese, sliced thin
2 oz. Provolone cheese, sliced thin
Spicy Olive Salad
1 Boule (round French bread with sesame seeds) or if not available you could use a crusty baguette
Instructions
Preheat oven to 400F. Slice bread in half horizontally and pull out some of the dough in the  top half to make a well for the olive salad. Spread salad and layer with slices of Swiss, provolone, mortadella, salami, ham, provolone and Swiss, in that order. Place bottom of boule on sandwich, flop over and cut into quarters. Place on baking sheet and warm in a preheated 400F oven for about 5-7 minutes until cheese is melted and bread is golden. 
Keywords: Lotta Muffuletta, Italian, sandwich, melty cheese, cold cuts, sub sandwich, New Orleans, Central Grocery